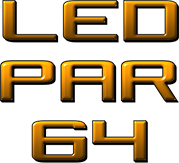 Irradiant LED Par 64
The Irradiant LEDSP64ST is a LED color-changing Par 64 Can. It contains 50 red LEDs, 39 green LEDs, and 27 Blue LEDs. It contains 5 dmx channels that are set by the built in dip switches.
This par can is super bright and light weight compared to standard Par 64's and emits zero heat. The LED's will last you for years. This par can is DMX so you can connect it to your favorite controller. The par can also works in stand-alone mode with several different modes. Strobing, color-changing, rainbow, and multi-colors are only some of the features of this professional par can.
Features
Light source:
Red: 8 x 1W 25°/10° LEDs
Green: 8 x 1W 25°/10° LEDs
Blue: 8 x 1W 25°/10° LEDs
DMX channels: 5
Channel function:
Channel 1: Red intensity
Channel 2: Green intensity
Channel 3: Blue intensity
Channel 4: Dimmer
Channel 5: Strobe speed
Total output power: 24 W
Control modes: DMX, Auto, Sound, M/S (Linking)
Built-in programs: Single color, multi-colors, rainbow, variable strobe
Power consumption: 35W
Voltage: AC 120-240V 50-60Hz
Dimensions: L: Ø230*400mm / S: Ø230*300mm
L: Ø9.06*15.75 / S: Ø9.06*11.81inch
Weight: L: 2.9 kg / S: 2.6 kg
Dipswitches on these lights are as follows
1-8 are the standard Hex Deci Numbering system
9-10 set the modes
DMX mode – Both 9 and 10 off
Auto Mode – 9 on 10 off
Sound Activated – 10 on 9 off